We are go-to experts for brazing, soldering, plating technology,
electrical contacts and technical ceramics.
Our experience in treating precious metals translates into cutting-edge products
and services of the highest quality.
We tackle challenges large and small every day: we solve problems together
in our pursuit of ultimate customer satisfaction.
We believe the satisfaction and safety of our team
are key to our success.
We became part of the SAXONIA Group in 2018.
CERTIFICATIONS
Process ISO 9001, environmental ISO 14001 and safety ISO 45000 certifications mark
an essential milestone on our path to continuous improvement
and sustainability mark an essential milestone
on our path to continuous improvement and environmental sustainability.
Our quality policy is conscious and concrete.

OUR DAILY CHALLENGE
HERE'S HOW WE DELIVER ON OUR PROMISES
SUSTAINABILITY
We are firmly committed to sustainable growth:
for us, financial, social and environmental goals are a daily challenge,
one that we tackle tirelessly across all the Divisions
making up our business.
With in-house training, innovative projects and cohesion within the workforce,
we strive to achieve excellence in our products and in the services
we deliver while treading lightly on the environment
Openness, Respect, Teamwork and Passion are crucial to our success.
We promote these values, ensuring that they are respected.
Wherever we operate, our reputation is a valuable asset. We shall avoid any action
that would jeopardize respect for Italbras. We are committed to complying with the
Code of Conduct of our HeadQuarter
Ecovadis, the most internationally accredited platform
in the field of corporate sustainability assessments,
awarded Italbras the gold medal for the quality of the
company's sustainability management system.
The analysis model adopted by Ecovadis verified our performance i
n relation to 4 macro-areas: Environment, Labor Practices and Human Rights,
Ethics and Sustainable Purchasing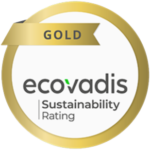 SAFETY CULTURE
We do not compromise on safety.
Our ultimate goal is to create an accident-free working environment for everyone.
We promote a safety culture, providing for employees' participation in preventing workplace accidents.
We encourage people to report any dangerous situations
and we are committed to making safety a way of life for everyone.